Best Neighborhoods to Live in Boise Idaho
Best Neighborhoods to Live in Boise, Idaho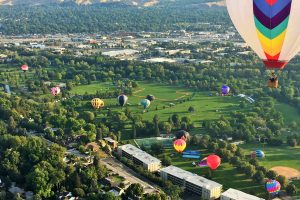 Boise, Idaho, is a great city to live in. The people are friendly, the quality of life is stellar, the weather is perfect for year-round enjoyment, and there's plenty of outdoor recreation and activities nearby. If you're not sure where to start looking for your next home, don't worry! Below you will find a list of some of the best neighborhoods in Boise – no matter what your budget is! Here is an updated list of the Best Neighborhoods to Live in Boise Idaho.
DOWNTOWN
If you're looking for a great vibe and nightlife, downtown is where you'll find all of the best restaurants, nightlife, museums, and other attractions all within walking distance. However, it's also one of the most expensive areas to live in! A three-bedroom home will cost around $750k+. If that sounds like a bit too much for your budget, check out some less pricey options below.
ALDER POINT
Alder Point is one of the most central and fastest-growing residential neighborhoods. New developments are popping up all over this area, with the median purchase price ranging from $385k. It's a bit more affordable than downtown! One downside to living here is that it's not very close to an ample selection of restaurants, bars, and coffee shops.
GARDEN CITY
As you might expect, the living costs are cheaper in Garden City. It's not as central as Alder or downtown, but it has many affordable housing options, and there is easy access to restaurants and shops on the Boise Spectrum Center (a shopping mall). The median purchase price here ranges from $392k, which allows for various opportunities for living.
CANYON CREEK RANCH
This neighborhood is a newer subdivision and all the modern amenities you could want! The homes here are unique but still have quite a bit more square footage than most other neighborhoods on this list. There is easy access to local parks, walking paths, recreational activities, and the Boise River.
BOISE STATE UNIVERSITY AREA (BSU)
The newest addition to our neighborhood list and this area is excellent for people who want a college vibe with all of the benefits of living in an urban setting. The homes are predominately condos or apartments, which can sometimes lead to high rent prices.
LOCUST GROVE AREA (LG)
The Locust Grove area is a great neighborhood if you are looking for something with more of an older feel. The homes here have been around since the 1930s and 1940s, but there has been a recent resurgence that has brought in new people and revitalized some parts of the area.
WEST END AREA (WE)
The West End area is a great neighborhood for families and has some of the highest housing prices. The quiet streets, proximity to schools and parks is also an attractive draw here, with many homeowners choosing this area because they want their kids close by without being too far from amenities like shopping, coffee, and restaurants.
WESTMINSTER AREA (WM)
The Westminster area is an excellent choice for those who want to live in an urban environment with easy access to downtown and are looking for something that still has sidewalks and street connections. The homes here range from starter units to luxury residences, so there is something for every budget.
LOCHSA FALLS AREA (LF)
Lochsa Falls, in Northwest Meridian, ID is a wonderful community for any family to call home. With well-appointed floor plans available and homes for sale spanning the $300s to the $700s, there's something for everyone. Homes in Lochsa Falls range from 1,754 square feet up to 5,162 square feet and offer a quiet neighborhood setting with convenient access to schools, shopping, dining, and entertainment venues. Whether you're looking for your first home or your dream house – Lochsa Falls has it all!
BOISE NORTH SHORE (BN)
Boise North Shore is a popular area for those looking to live near the river but who don't want to be too close to downtown with its noise and traffic. This neighborhood also has some great natural resources that include hiking trails in Lucky Peak State Park and the river.
BOISE SKYLINE (BS)
Skyline is an upscale neighborhood with lots of historic architecture, including old homes, condos, churches, and even a train station! One of the great things about Skyline is that it has various housing options, from starter homes to luxury units like those on the top of Mountain View Hill.
BOISE SOUTH END (BSE)
Boise South End has an outstanding balance between old Boise and new development with homes from different eras and price points. The area includes historic neighborhoods like Garden City and more unique communities like Northpointe Village. There are also some great parks and trails like the Boise River Greenbelt, a 20-mile rail trail connecting biking commuters to downtown.
BOISE NORTH END (BNE)
If you are looking for an area with a more suburban feel, then the North End neighborhood might be your best bet. Thie North End neighborhood has some lovely starter homes, but it also has larger-scale houses and condos. North End is close to the Boise River Greenbelt, which makes for superb biking routes and access to downtown by foot or bus.
BOISE NORTHWEST (BNW)
If you are looking for a more suburban lifestyle with excellent schools, this residential neighborhood is the area for you. There are lots of single-family homes in this neighborhood, but some new condos on Woodbridge Ave have a great view of Boise and Downtown. One perk to living here is that it's close enough to downtown so that you can commute by bike or bus easily, yet far away enough from all of the chaos and congestion.
BOISE EAST (BNE)
If you are looking for a good mix of affordable houses and starter homes, then this would be one of the most desirable neighborhoods for you. It's close enough to downtown, so commuting by bike or bus is easy but far away enough from all of the chaos and traffic jams that come with living in an urban area.
This neighborhood is primarily single-family homes, but there are also some condos on the river that have a great view of Downtown and North End Parks and Basque Park one mile to the north. You can enjoy all of the benefits of living in an established community while still feeling like you're close enough to the city.
If you're looking for a more affordable option, this is your spot!
All of these homes are well-maintained and have plenty of yard space to enjoy with friends and family. The median purchase price for homes in BNE range from $350,000 and up, making them very accessible price-wise.
These are just a handle of the Best Neighborhoods to Live in Boise Idaho.